The car was designed on the back of a serviette by Barry Weir.
British motoring enthusiast Barry Weir  designed and built his own Aston Martin-approved car and ended up creating a piece of automobile history.
In 2012 Barry designed his own Aston Martin based on the Rapide platform but as a shooting brake and with more headroom for the back seats, along with a host of other unique features, including a full length tinting glass roof and sliding rear floor at the touch of a button.
Barry called it the Aston Martin Jet 2+2 although the new one-off model was officially registered as Aston Martin Jet 2 because the DVLA system was unable to compute the extra digits.
Aston Martin fully approved the design and build of the car and originally intended to put this model into production themselves along with legendary Italian coach builder Bertone.
The car was built in time for the 2013 Geneva Motor Show where it was unveiled to critical acclaim and stole the show.
It turned out to be the last car ever to be built by Bertone before the designer went bust and Barry had presumed that fibre glass moulds and full-sized clay model used to build the car had been lost forever.
Barry has sold the car and the road registered number plate 'Jet 2'. 
"When the car was built, Bertone were keen to build 10 cars and then Aston Martin wanted to put a version into full production," said Barry.
"Unfortunately, Bertone went bust and it never happened. It meant, however, that mine became a unique example of an Aston Martin, an entirely new production car which consisted of just one vehicle.
"It's now a piece of automobile history. It is officially registered as Aston Martin Jet 2; which is a unique model.
'Part of me would loved to have seen it reproduced but I love the that it will forever remain a unique one-off as part of automobile and Aston Martin history.'
The genesis of Jet 2+2 began in the summer of 2012, when Barry found himself sitting with the men from Bertone at the Marco Polo airport in Venice.
He persuaded them to build him a unique car after contacting  Aston Martin who were already aware of Barry after he became first man to drive a historic car around the world in 80 days in a 1954 Aston Martin DB2/4 in 2000; making him a true world champion rally driver. s
The first version of the new car was designed on a couple of serviettes by Barry as he waited at the airport. Incredibly, it was the last car ever to be built by Bertone.
"I wanted them to build a shooting brake, a useful Aston based on a Rapide," said Barry. "It's a family friendly sports car that can sit people comfortably in the back with a large boot or create a two-seater with an enourmous boot space; ideal for luxury shopping trips."
The car shares 70 per cent of its DNA with the Rapide, including its 470bhp, 5.9-litre V12 engine, and a donor car was shipped to Italy towards the end of 2012.
Drawings, renderings and photographic imagery were shown to the board of Aston Martin. Aston's chief designer Marek Reichman made the comment, "Wow, where did that come from?". Other comments included, "We've got to build that car". The board then gave approval for Bertone to produce the Jet 2+2, as it became known.
"They worked all over Christmas, and by the early part of January we had a full-scale plaster model mock-up of the car," said Barry, who played a continuing role in the design of his dream car.
In total, the design and build took around three-and-a-half months, with Bertone scanning the model and creating reverse moulds before the company's crack team of engineers beat in the panels by hand using aluminium, sheet metal and carbon fibre.
A new design for the front seats and a dimmable panoramic glass roof, which changes colour from clear to blue, make the interior feel airy and much larger than the standard Rapide. This roof runs the length of the car and the dimmable glass feature  has now been adopted by other manufacturers. The rear seats fold flat at the press of a button allowing the boot floor to extend automatically right up to the back of the front seats.
With an identical wheelbase to the Rapide, Bertone managed to keep the kerb weight almost identical to the donor car, at around 1990kg, resulting in the same performance but in a far more practical package.
The paintwork and interior touches, including unique wood, two-tone leather and glazed aluminium which were chosen by Barry, whose name is etched into a plaque inside the cabin.
"It was a halo car for Aston Martin," said Barry. "At the time it was the fastest shooting brake in the world at 200mph, reaching 60mph in about 5.3 seconds.
"It's something truly unique, and is registered as Aston Martin Jet 2."
Unlike the Jet 2 concept of 2004, which according to Barry "was purely a shell of car with no engine", the Jet 2+2 (denoting its four seats) was an all-new production.
See what Top Gear magazine and the Daily Mirror newspaper had to say about the remarkable warehouse discovery.
Luxury publication JamesEdition
Meet the super-rare Aston Martin Shooting Brake recently sold for $3M
The Aston Martin Bertone Jet 2+2, marketed via JamesEdition and recently sold to the England-based private collector, is a unique machine that captures the attention of car connoisseurs with sheer beauty and elegance.
Born out of a vision of car collector Barry Wier and executed to the highest standards by Milan-based coachbuilder Bertone, this Shooting Brake is a symbiosis of modern technology, extravagant styling, and the epitome of what an exclusive one-off car should be. With the selling price of about $3 million, it's also one of the highest valued Aston Martins on JamesEdition: just as expensive as a legendary One-77 or a brand-new Valkyrie.
So let's look into what $3 million can buy when it comes to a one-off, heavily customized Aston Martin.
The Geneva 2013 triumph applauded by automotive journalists and car collectors
The tale of Aston Martin Bertone Jet 2+2 starts in 2009 when Bertone introduced a concept car called Jet 2 Shooting Brake. Built on a DB9 basis, this elegant car immediately caught the attention of Aston Martin aficionado Barry Wier but his attempts to purchase a fully functional concept proved unsuccessful since it was the personal vehicle of Lilli Bertone, widow of legendary Nuccio Bertone, founder of Italy-based coachbuilder.
However, not long after, Wier received a phone call from Bertone offering the construction of another Shooting Brake according to his exact specifications. It was an opportunity that couldn't be missed and when Aston Martin officially agreed to support the project, stars aligned, and Bertone Jet 2+2 was conceived. The name was an homage to the iconic 1964 Aston Martin Bertone Jet.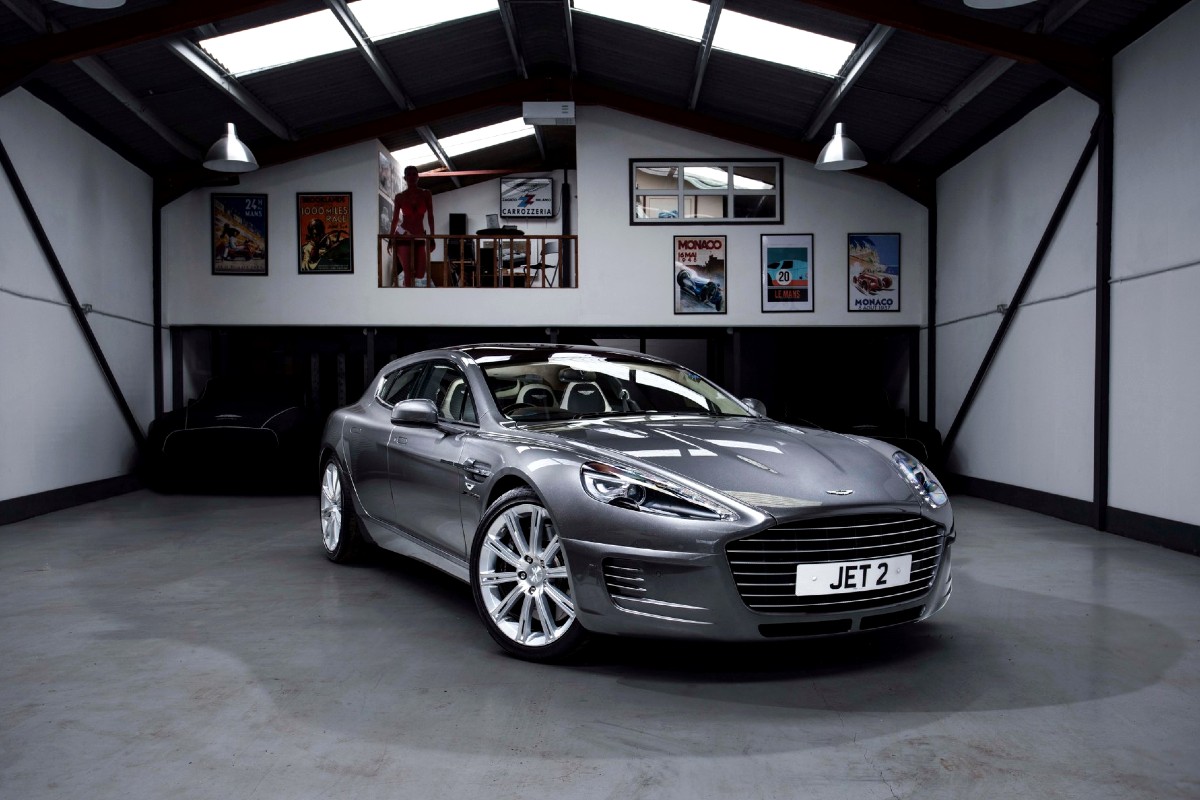 Jet 2+2 based on Aston Martin Rapide is the perfect combination of signature Aston lines and extravagant Shooting Brake body by Bertone.
The design work started in 2012 and was completed very swiftly. As soon as Weir and Aston Martin approved the design, actual construction began. In true coachbuilding fashion, the body was shaped by hand in Italy using aluminum and carbon fiber.
Although the original Bertone concept was based on DB9, Weir's Bertone Jet 2+2 was based on Aston Martin Rapide. This Shooting Brake was finished in less than a year and triumphantly showed at the 2013 Geneva Motor Show, where it met universal acclaim and became one of the stars of the event.
The combination of signature Aston lines with extravagant Shooting Brake body by Bertone presented the perfect driver's for people who need comfort and practicality but don't want to sacrifice sublime driving characteristics and performance Aston Martin is known for. As expected, this car was built to the highest standards, which resulted in equally lofty build costs.
Since it was based on Rapide, Bertone Jet 2+2 shared about 70% of its components and body, including a fantastic 5.9-liter V12 engine delivering 470 hp to rear wheels over 6-speed automatic transmission.  The interior of this Aston is equally impressive. The custom touches include a full-length glass roof, folding rear seats, generous luggage compartment, courtesy of the shooting brake design, which provides the owner with significantly more usable space making the Bertone Jet 2+2 a really practical and immensely fast family sports car.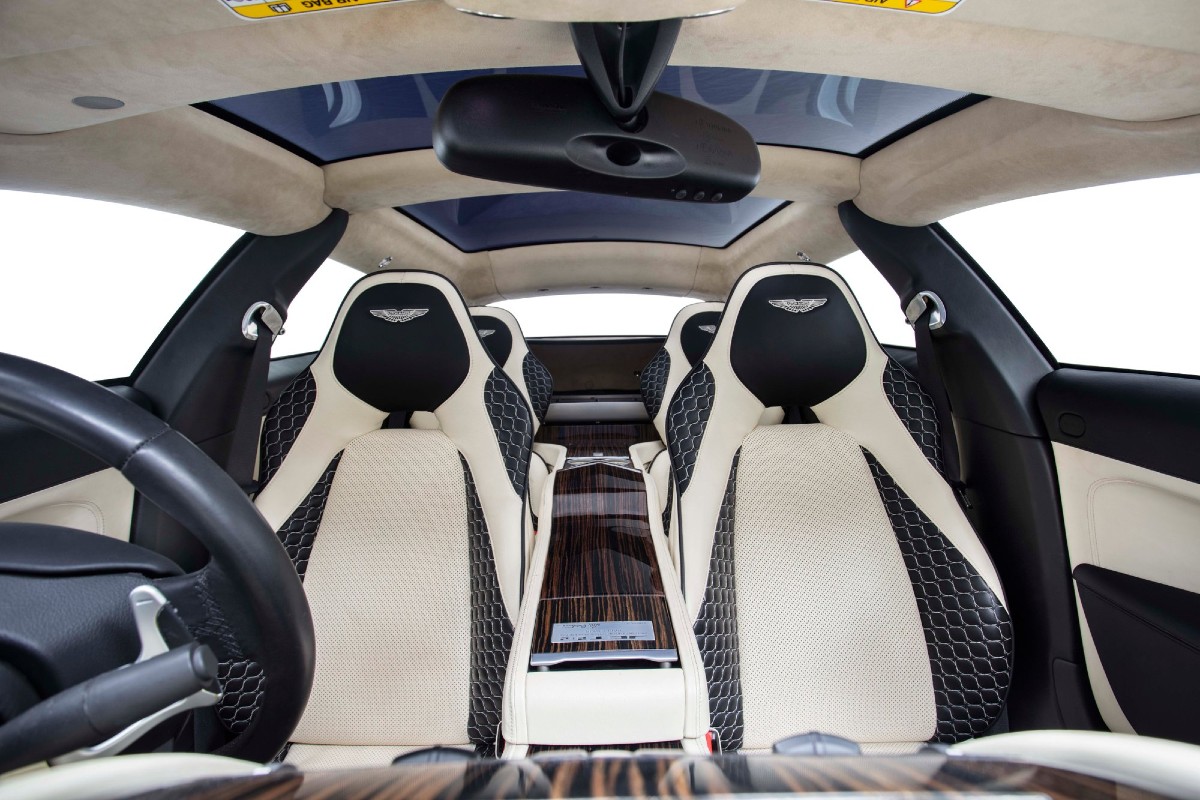 The interior upgrades include a full-length glass roof, folding rear seats, and generous luggage compartment, courtesy of the shooting brake design.
"At the time it was built it was the fastest shooting brake in the world at 200mph, reaching 60mph in about 5.3 seconds," said Mr. Wier.
Needless to say, Weir was delighted with the car and covered over 17,000 miles in a few years of ownership. But in 2021, the time has come to pass it on to a new owner who would enjoy this unique Shooting Brake and create new experiences with one of the world's most exclusive cars. As expected, when this Aston was listed for sale, it created a lot of interest from collectors and it was sold for an undisclosed sum, reportedly close to $3 million. The car was purchased by a well-known collector and it will be a part of an impressive collection of Aston Martin cars. Interestingly, the sales included tools and molds used in creating the original car, which means that the new owner can continue production.
Aston Martin Shooting Brake: bespoke Italian designs from Zagato and Bertone
You might ask, what makes this car so special and unique? Apart from being a one-off, this is a Shooting Brake that is a rare body style, never produced in large numbers, and cherished by automotive enthusiasts. In short, Shooting Brake is a cross between a sports car and a station wagon, offering the practicality of the latter with the exclusivity, power, and performance of the former. The name itself dated from the late 19th century and was used to describe wagons carrying guns used for hunting.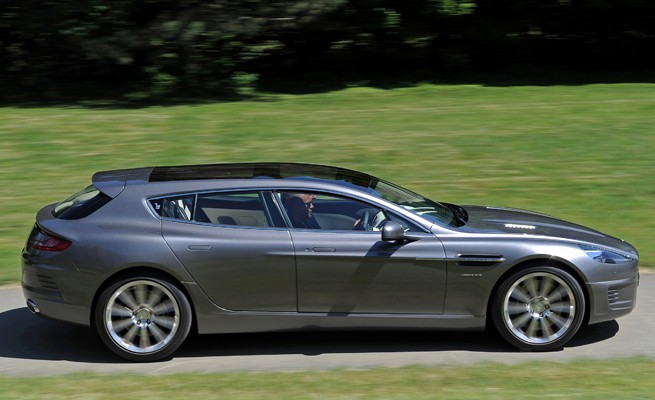 Aston Martin Bertone Jet 2+2. Source: Top Gear
Gentlemen sports car buyers of the modern times wanted the same practicality, and in the 1960s, Aston Martin produced 11 examples DB5 Shooting Brakes, which were very expensive but cherished amongst the wealthy customers for their practicality, elegance, and performance.  Over the years, Astons were built by various design companies, but the best looking and most sought after came from Italy, manufactured by Zagato and Bertone. Aston Martin had offered Virage, Vantage and even Lagonda-based shooting brakes all of which appealed to discriminating customers with specific needs.
Since the late 50s and days of DB3 and DB4 models, Italian-designed Astons represented the pinnacle of elegance, beauty, and exclusivity, which influenced Barry Weir to create his Bertone-designed Aston. Interestingly, an integral part of Aston Shooting Brake history and Italian connection is the sublime Vanquish Zagato Shooting Brake. This 580 hp beast is produced in just 99 copies, with unique styling and features, that all have been sold out in a matter of days. If you manage to find one, be prepared to pay over $1 million for the privilege of owning this rare and blisteringly quick shooting brake.